Home
| | |
| --- | --- |
| Moon Salutation Charts | |
The Moon Salutation is designed to complement your Sun Salutations, (which, presumably, you have done earlier in your yoga day : ). It stretches the body to the sides and then closes you down into restorative poses. The side stretching complements the strong forward/backward focus of the Sun Salutations. The restorative poses help you gear down and release stress from your day. Some people prefer the Moon Salutation because it has less weight bearing than the Sun Salutations.
There are many versions of Moon Salutations. Is there one, true version that has prevailed throughout the ages? That's doubtful. But there are poses that tend to be included in traditional versions, including Side Stretch, variations on the Triangle and various types of Lunges. Basically, anything that helps you meet your goals of balancing your workouts and restoring you at the end of the day mean you're doing true Moon Salutations.
Here are two versions from Serenity Yoga, cnveniently displayed on a double-sided chart. Corinne has designed them at two levels, relatively gentle and a moderate level of difficulty. The chart show in detail the sequence of movements and the breathing. They are further supported with instructions on this site for most of the poses. The chart isapproximately 8 1/2 x 11, laminated, double sided and in full colour.
$9.95 Usual shipping time is 10 business days within North America.
Email us to place your order: This e-mail address is being protected from spam bots, you need JavaScript enabled to view it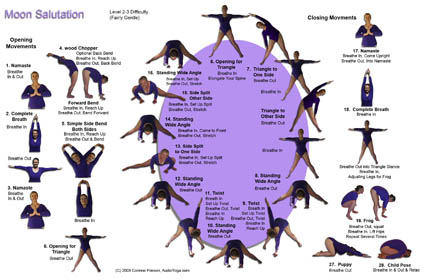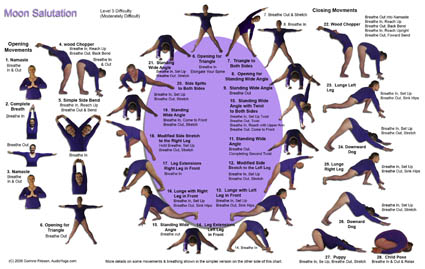 Usual shipping time is 10 business days within North America.
Email us to place your order: This e-mail address is being protected from spam bots, you need JavaScript enabled to view it